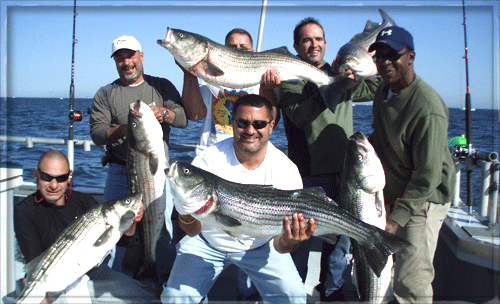 Half Day Inshore  6-11 AM/12-5 PM $650
Full Day Inshore- Bass and Fluke  $1,100
Full Day Inshore- Bass, Blackfish & Sea bass $1100
Night Bass Trips with Live Eels $800
Full Day Cod $1,200
Full Day Offshore Shark  $1,500
Full Day Offshore Tuna $1,500
Extended Day Offshore $2,200
Overnight Canyon Trip $4,000
Multi-Passenger Trips
Please Send Deposits To:
218 Edgemere Road
Montauk, NY 11954
**Rates are based on 1-6 passengers.  Additional fee per person: $100 Inshore/$100 Offshore
*** IT IS CUSTOMARY TO TIP THE MATE 20%
***** Deposits are necessary for all charters.  Checks, Visa, Mastercard, and American Express are accepted for deposits and payment.